Опубликовано
10 июл. 2015 г.
Italtex: Menswear Fabric Trend AW 2016/17
Опубликовано
10 июл. 2015 г.
The collections Autumn/Winter 16/17 tend to be richer in patterns, provided they are discreet and expressed in subdued and textured renditions, in refined colour combinations, never too bold or too bright.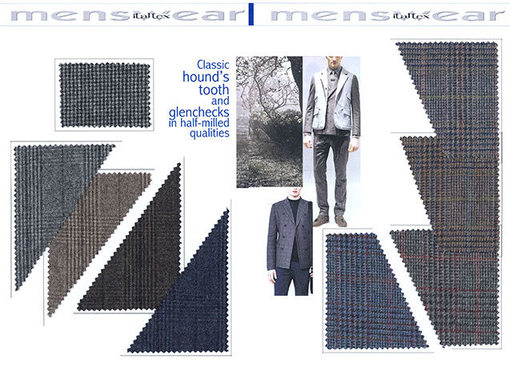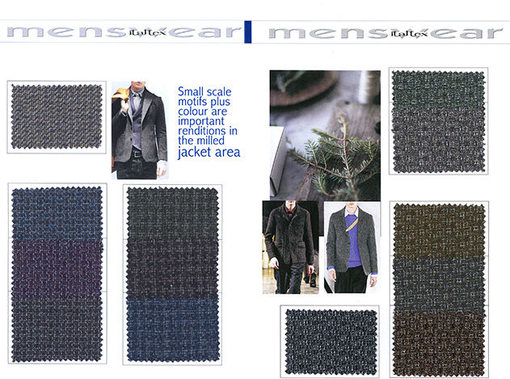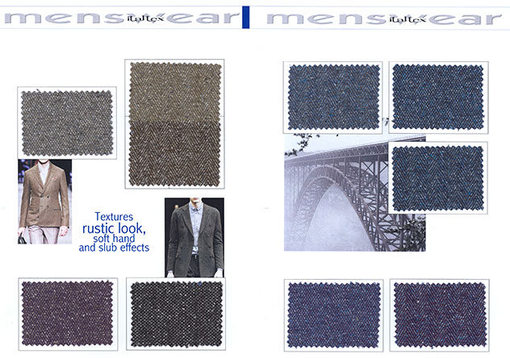 Remarkable is the use of fancy yarns such as twist, knop and fine slub yarns, beside them a lot of qualities are in mixture colour, to get a warmer effect and soften patterns reaching a better Winter image.
Quite a lot are the milled and half-milled fabrics, mainly with soft and bulky hand.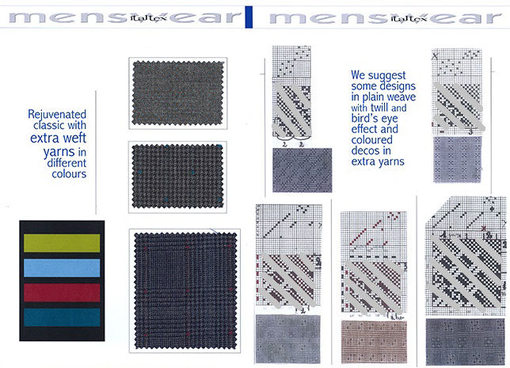 Because of the continuing vogue toward sporty styles, jacketing dominates but suit remains protagonist in formal wear, occasion and business lines.
Special mention to the pants, getting more and more sporty, to be matched to sweater or jacket.

Wool is important expecially for Winter qualities, such as elegant suits, occasion attires with the addition of silk and for jackets, sometimes combined with lambswool or cashemere in rich qualities.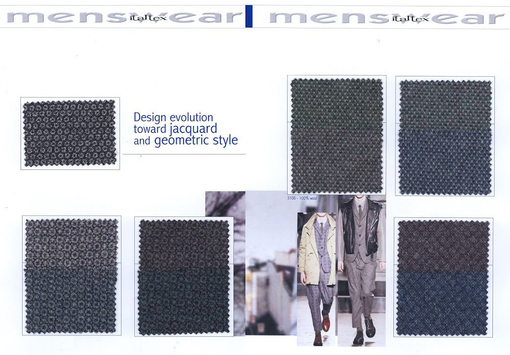 Worth noting the use of wool mixed with polyester, polyamide, viscose and cotton to get the greatest variety of fabrics, more affordable though of good quality.

JACKETS
As stated above, this garment is growing in importance and therefore developed in a large variety of solutions, here below the main themes:
. classic renditions in small scale pattern and hound'tooth on half-milled qualities, in warm Autumn mixture hues, reminding the English style jacket
. milled plaids and fancy checks plus colour with additional slub and knop yarns to get a new sportier look
. medium/dark tones underlining the elegance of some checks and low contrast regimental stripes always in the dark depth
. Madras style plaids are developed in milled cloth light Winter tones
. interesting are some doubles, with fancy face and plain reverse
. evolution toward jacquard style designs, sometimes with additional fancy yarns.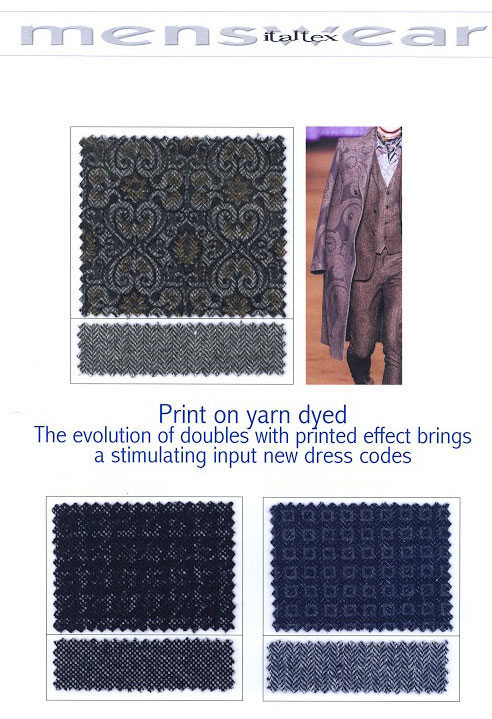 SUITING
Plain weave fabrics with low contrast twist and mixture yarns, in classic renditions for the sports suit; textured, rustic, crossbred, crepe for morning outfits.
Some woolen yarns for qualities that emphasize the rustic look, interesting are geometric effect textures with soft and bulky hand.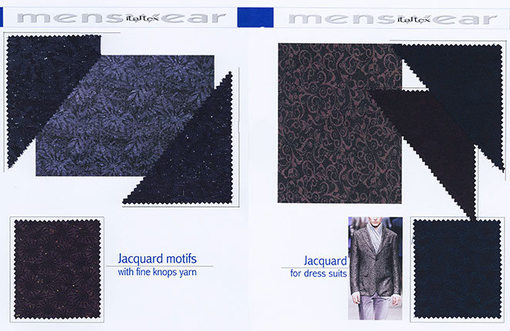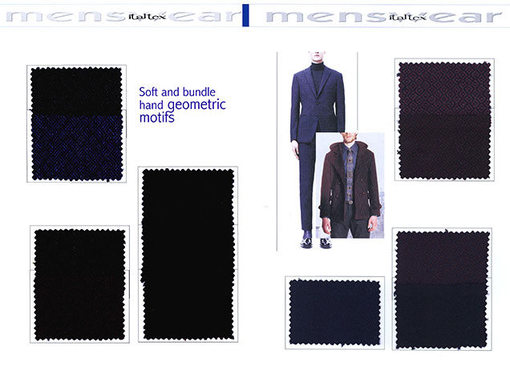 Pick and pick grounds are perfect for stripes, for glen and overchecks.
In the formal dress area, jacquard style effects can concern only the jacket or the whole attire and are often large repeat motifs.
Extra yarn or dobby effects, but also slub yarns enrich this fabrics line.
Refined qualities with subdued micro effects in half milled cloth, textures and crepe enliven the grounds.


COLOURS
In formal wear colour selection, classic dark shades are to be preferred, it will include asphalt grey, black, navy and midnight blue, chocolate brown and burgundy red; for the city suit a lighter depth of colour such as iron grey, slate blue, chestnut brown.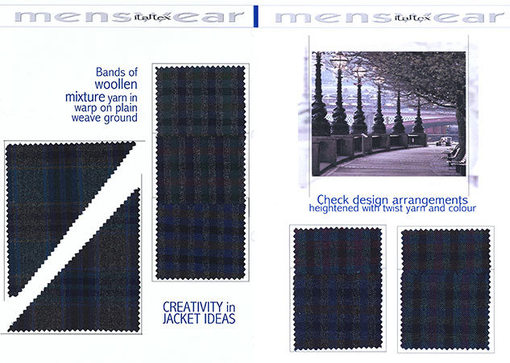 In the jacket area, slightly brighter colours starting from the azure/blue to the turquoise and greenish tones, important are the Winter camels, beside the neutral, reddish beiges and the violet hints.

Italtex
If your world is made of fabrics, get ready to live a new experience made of fashion trends and technical info.

Get the full details on their website www.italtextrends.com

Copyright Italtex

 
Copyright © 2023 FashionNetwork.com All rights reserved.